Get ready for spring with our Vehicle Health Check Newmarket!
Offer includes full synthetic oil, filter change, brake inspection and tire rotation.
Cars starting from $119.95 +tax
Trucks starting from $154.95 +tax
Call: 905-895-5577  |  Book Online  |  Directions 
---
GM Exclusive Rebates up to $200 on certain brands
Receive up to $200 off in manufacturer rebates on certain branded tires. See NewRoads GM for details.
Participating Manufacturers: Goodyear, Pirelli, Bridgestone, Firestone, Kumho, Continental, Dunlop, General Grabber, BFGoodrich, Michelin, Hankook, Uniroyal.
Call: 905-895-5577  |  Book Online  |  Directions  |  FIND YOUR TIRES
---
TIRE AND BRAKE 30-DAY PRICE MATCH GUARANTEE
We will match the competition's prices. If you purchase one of the aftermarket tire brands listed below and later find a better price on a similar brand within 30 days of the purchase, we'll refund the difference.
The price match applies to - BFGOODRICH, BRIDGESTONE, CONTINENTAL, DUNLOP, FIRESTONE, GENERAL, GOODYEAR, HANKOOK, KELLY, MICHELIN, PIRELLI, UNIROYAL, KUMHO
Tire brands not carried by your dealer will not be guaranteed for a price match
Competitive Prices
The competitive price you find must be in a valid ad, written estimate, or Internet quote for identical, new tires
The tires must be an exact match in brand, tire line, size, load rating and speed rating to be eligible for the price match guarantee
Internet quotes are eligible from local tire retailers only within an 100 km radius of your dealership's location
The competitive price must come from a local competing tire retailer and installer (with a physical location within 100 km of your participating GM dealer)
The competitive price must be valid within 30 days of your purchase of any of the tire brands listed above.
Service and Installation - The price match guarantee is only valid on the brake price and does not include installation To be eligible to claim, you must be a retail customer and be a resident of Canada.
TIMING BELT, TENSIONER & PULLEY REPLACEMENT
Timing belts wear out over time. If the timing belt fails or breaks, it can cause extensive engine damage. GM recommends changing your timing belt on your 1.8L Cruze at 150,000 kms. Visit our Certified Service professionals here at NewRoads Chevrolet Cadillac Buick GMC to have your timing belt replaced today. With this service we also replace the tensioner and pulley. Avoid costly engine repairs and book your appointment today.
$100 Off

when you book an appointment
Call: 905-895-5577  |  Book Online  |  Directions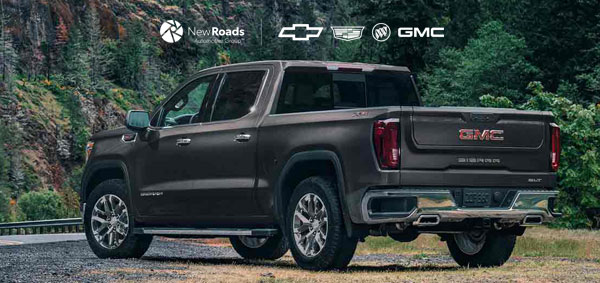 PICKUP TRUCK DRIVELINE SERVICE
Get your truck ready for the road Newmarket!  Bring your truck in to our Certified Service professionals here at NewRoads Chevrolet Cadillac Buick GMC to keep up on your vehicle's maintenance.  Regular fluid replacement of the front axle, rear axle and transfer case is recommended to protect and increase longevity of the component which provides long-term, worry free operation of your truck.  This service is recommended every 50,000 kms.  We will inspect the components for fluid leaks as well as inspect propeller shafts for U-Joint wear and missing weights.
Driveline Service Includes:
Replace fluid in front + rear differential
Replace fluid in Transfer Case
Inspection of components
Install new gear lubricant
$50 Off 4x4 Driveline Service
Call: 905-895-5577  |  Book Online  |  Directions
ACDelco® ADVANTAGE BRAKE PADS
CARS STARTING FROM $159.952 + TAX, PER AXLE
TRUCKS STARTING FROM $189.953 + TAX, PER AXLE
Call: 905-895-5577  |  Book Online  |  Directions
---
ACDelco® PROFESSIONAL BRAKE PADS
CARS STARTING FROM $199.95 + TAX, PER AXLE
LIMITED LIFETIME WARRANTY
TRUCKS STARTING FROM $229.95 PLUS TAX, PER AXLE
LIMITED LIFETIME WARRANTY
Call: 905-895-5577  |  Book Online  |  Directions
---
ACDelco® ADVANTAGE BRAKE PADS & ADVANTAGE COATED ROTORS
CARS STARTING FROM $399.956 + TAX, PER AXLE
TRUCKS STARTING FROM $419.957 + TAX, PER AXLE
Call: 905-895-5577  |  Book Online  |  Directions
---
ACDelco® PROFESSIONAL BRAKE PADS & ADVANTAGE COATED ROTORS
CARS STARTING FROM  $449.95 PLUS TAX, PER AXLE
LIMITED LIFETIME WARRANTY
TRUCKS STARTING FROM $519.95 PLUS TAX, PER AXLE
LIMITED LIFETIME WARRANTY
Call: 905-895-5577  |  Book Online  |  Directions
---